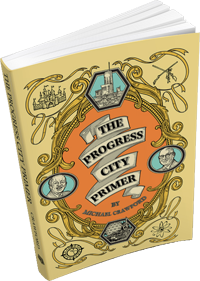 I'm thrilled to announce that after more than a year of work, The Progress City Primer is now available in hardcover, paperback, and ebook from a variety of booksellers. At 340 pages, the book contains 33 stories covering the full span of Disney history from Walt's time until today.
The book is currently available on Lulu, Amazon, and Barnes & Noble, but as it continues to make its way onto other online retailers I'll add those links to the book's official site – progresscityprimer.com. You can even read a preview of the book thanks to Google Books.
Of course I'd like to thank all the Kickstarter backers who made this project possible – your help is much appreciated, and I hope everyone who contributed enjoys the final product. And for those of you just coming across the project, I hope you'll take a look!
EDITED TO ADD: I feel terribly guilty to have forgotten this – if you have a favorite local bookseller, they can order the Primer through their wholeseller with the ISBN 978-0986205064. So please support your local book shop!
Related Posts…